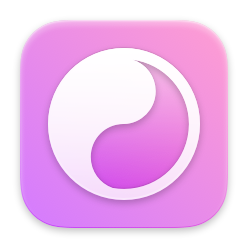 Umbra
The missing app for Dark Mode.
Umbra is a simple menu bar app that lets you specify desktop wallpapers for both light & dark appearances in macOS, plus toggle dark mode right from the menubar.
Toggle dark mode from anywhere with a single click.

Set wallpapers for both light & dark appearances.

Browse & choose stunning images from Unsplash.

Drag & drop images to set different wallpapers for light & dark appearances.Umbra supports JPGs, HEICs, PNGs & PSDs & scales your selected images to fit the desktop.

Browse Wallpapers, Textures, Travel & Nature photos from Unsplash.Preview photos from Unsplash collections & set them for light, dark or both appearances.

Preferences for dimming wallpaper in dark mode & changing menubar icon behavior.

Keeps wallpapers, appearance & preferences synced with macOS natively.

Set a global keyboard shortuct to transition between appearances from anywhere.

Fully localized for Japanese, Chinese, Spanish & French languages.