Sleeve updated to 2.1
7th February 2023
The first update since our major new release, with expanded features for Last.fm, and even more customization options for typography.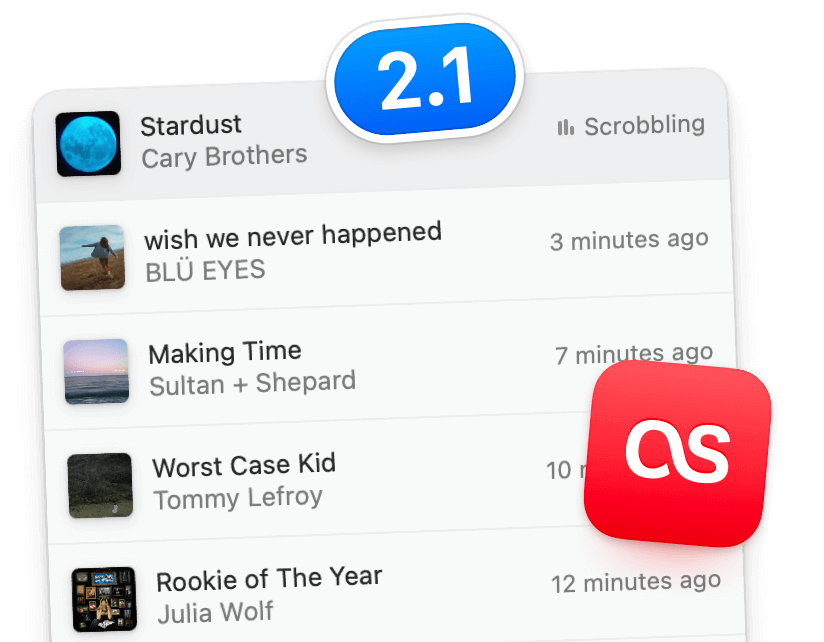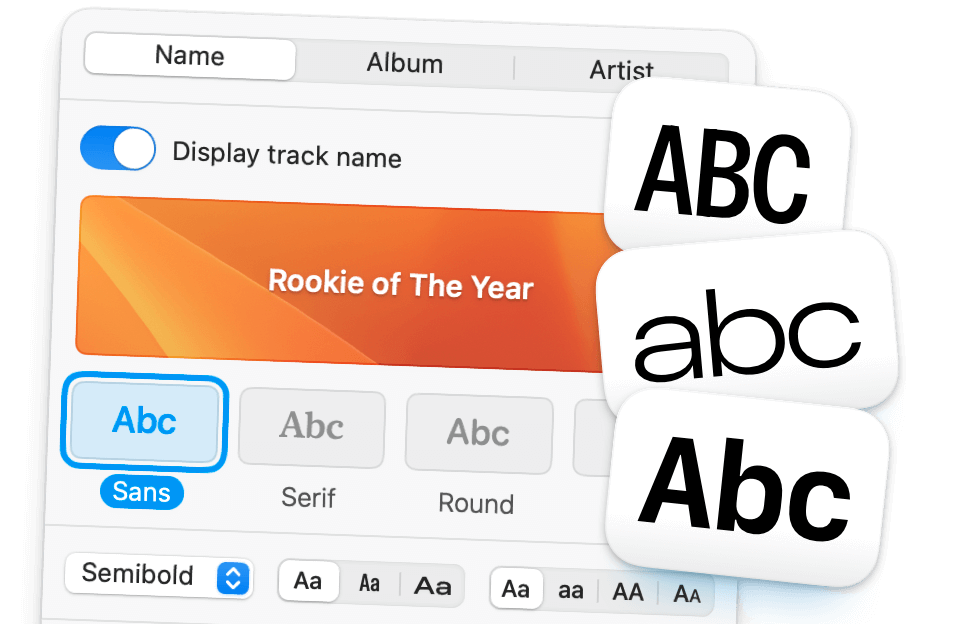 We've loved seeing the response to Sleeve 2 so far, and we're so grateful for all the support and feedback we've received since the launch at the end of last year. We've been working hard to make Sleeve even better, and we're excited to share what's new in the 2.1 update.
New Last.fm features
Recently scrobbled tracks
Firstly, we've added recently scrobbled tracks to the Last.fm integration interface so you can keep an eye on your listening history without opening your web browser.
Selective scrobbling
Next, we had several requests to allow for selective scrobbling, so we've added new toggles that let you choose which music apps you want to scrobble to Last.fm from. This could be useful if you use multiple apps but only want one of them to scrobble on macOS.
Custom scrobble point
Previously, Sleeve would scrobble a track when it had been playing for half the track's duration. Now, you can choose to scrobble a track when it has been playing anywhere between 50% and 100%.
New typography choices
Refreshed font styles
We're including support for additional font options for track text by adding a new monospaced font style, plus extended options for 'condensed' and 'expanded' sans-serif styles.
The new monospaced font is available for everyone, and the 'condensed' and 'expanded' sans-serif styles require macOS Ventura.
Additional typographic options
Alongside these new font styles, you can also now customize the letter spacing of track text, and even the capitalization, including 'all caps' and 'small caps' options.
You'll also see an updated interface where font selection and these new customizations are even easier to play with.
Bug fixes and improvements
There's also a handful of improvements we've made along with the usual bug fixes and performance optimizations.
Scrobbling album artist — we'll now send the album artist as well as the track artist when you scrobble to Last.fm
Right-clicking when 'text only' — when using the 'text only' layout, right-clicking should be more consistent
Spotify 'like' status — fixed a bug where we'd sometimes fail to retrieve the like status of a track in Spotify
HotKeys update — we have a known issue where certain keys such as the function (F1, F2 etc) and space keys are not supported by the hotkey library we use. For now, we'll prevent setting these in the interface, while we're working on a fix to allow them to be used in a future update
Update now available
This update is available now! If you've purchased from us directly, if you haven't been prompted already, you can manually check for updates in the 'System' tab of Sleeve. For App Store users, you should see the update available in your 'Updates' tab in the Mac App Store.
No subscriptions. No in-app purchases. Requires macOS 11 Big Sur or later.
We'll have plenty more updates to come, but we wanted to say a huge thanks once again to everyone who has purchased, upgraded to, or given us feedback on Sleeve — it's always appreciated!
Al & Hector